Plannie
A B2C marketplace connecting clients to local event planners worldwide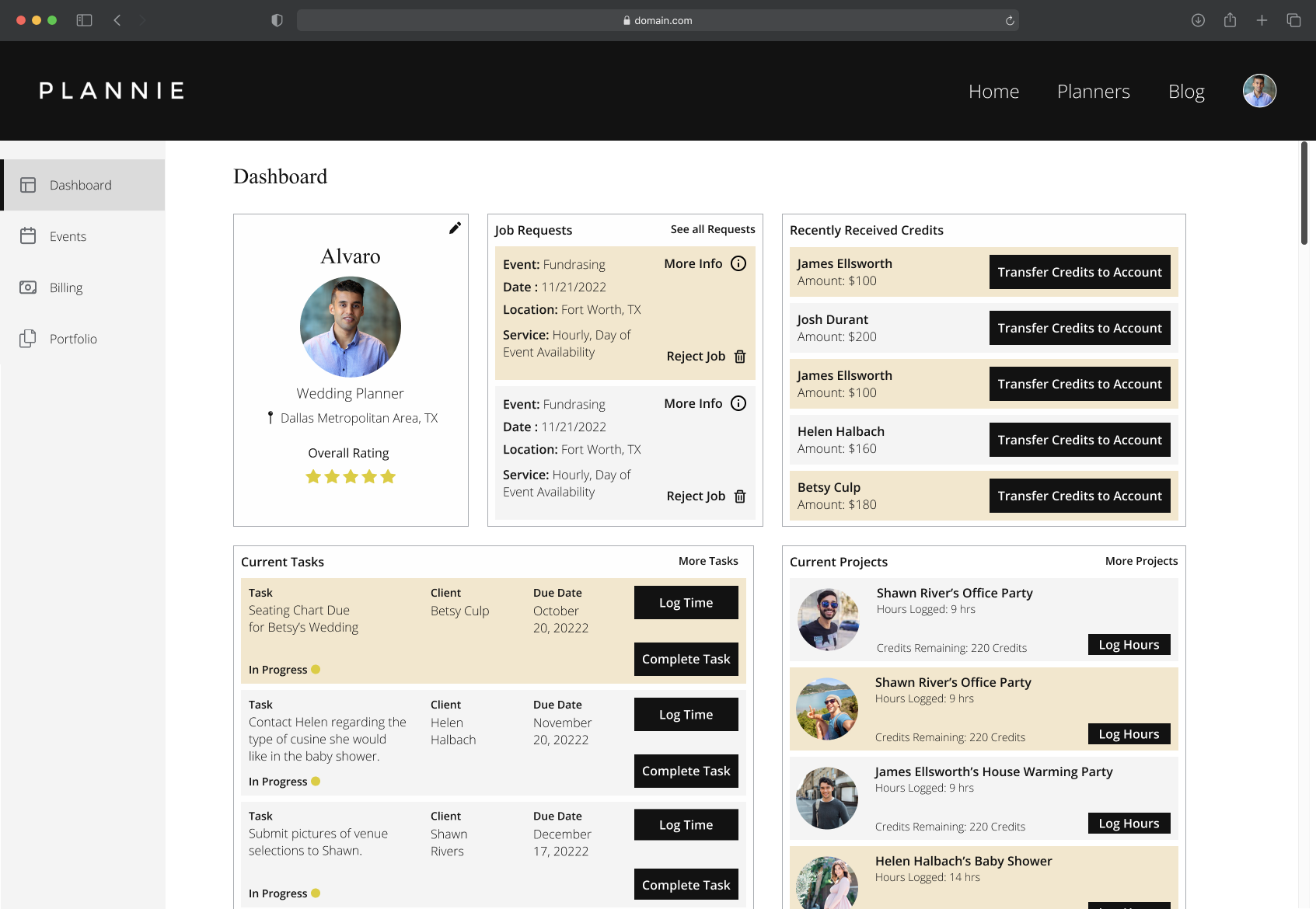 Overview
Plannie is the Uber of event planning, effortlessly connecting clients with top-tier local event coordinators worldwide. While the platform offers a diverse array of tools, from task management to billing, the dashboard required enhancements to improve the user experience. This was a boot camp-led learning opportunity to redesign the dashboard, enhancing client-planner direct communication, and making event planning even smoother than before.
The Challenge
User testing revealed that while Plannie's platform provides a wide array of services, there's a notable gap in the user experience: the lack of a dedicated communication platform for users and event planners to connect directly. As Plannie continues to expand, this shortcoming becomes increasingly prominent, underscoring the need for a more cohesive UX solution to facilitate these interactions.
The Solution
To address users' needs, I redesigned Plannie's dashboard, enhancing both functionality and usability. This revamped dashboard enables users and planners to connect directly, eliminating the need for intermediary involvement from Plannie. Additionally, I introduced an 'Events Screen' that consolidates event details in a single view. A key feature of this screen is the chat function, allowing clients and planners to communicate swiftly and effortlessly.
Process
Discovery

Design

Prototype

Conclusion
Discovery
I was provided with Jira tickets outlining the requirements of the redesign. These tickets specified functionality features that needed enhancement or addition. Key among these was improving the visual design of the dashboard and introducing a chat box feature on the events page.
Both tickets included user stories, derived from user feedback, which underscored the need for the redesign. As a UI Designer, these stories were pivotal, as they served as a reminder to prioritize the aesthetic appeal and, more importantly, the core reason behind the redesign: addressing usability and fulfilling user needs.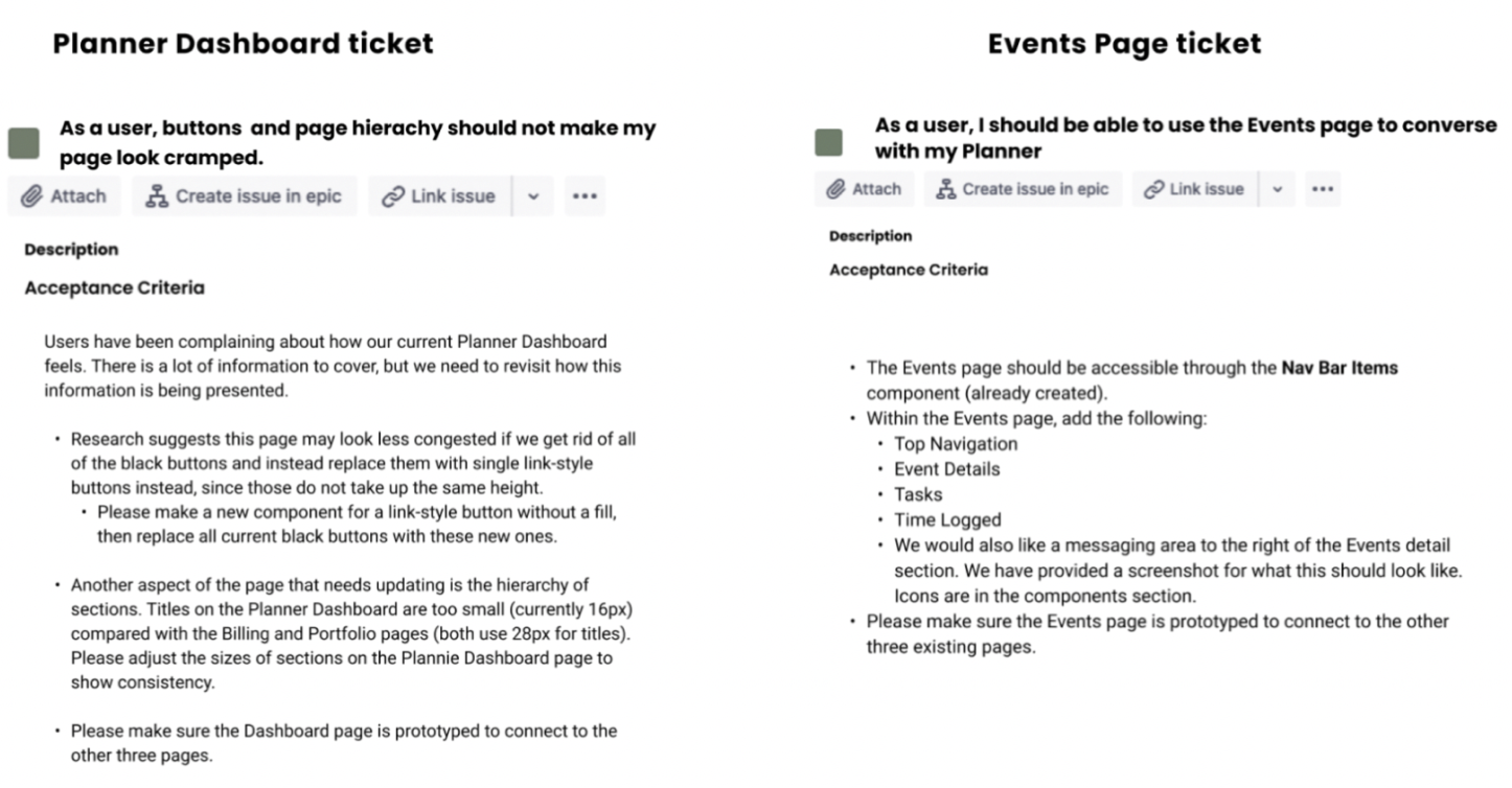 Dashboard Redesign
After closely examining the first Jira ticket, it became clear that Plannie's users felt overwhelmed by the dashboard's information overload. While it's essential to present a large amount of information, refining its presentation is critical for enhancing user efficiency.
Plannie suggested a potential solution to alleviate the visual congestion: replace the black buttons with link-style buttons. These wouldn't consume as much space, making the interface feel more spacious.
Subsequently, I designed new components featuring link-style buttons without fills, aiming to replace the existing black buttons.
Another inconsistency was the typographic hierarchy. The titles on the Planner dashboard (at 16px) were significantly smaller than those on the Billing and Portfolio pages, which use a 28px font size for titles.
To foster consistency across the platform, I resized the dashboard titles, aligning them with the other sections.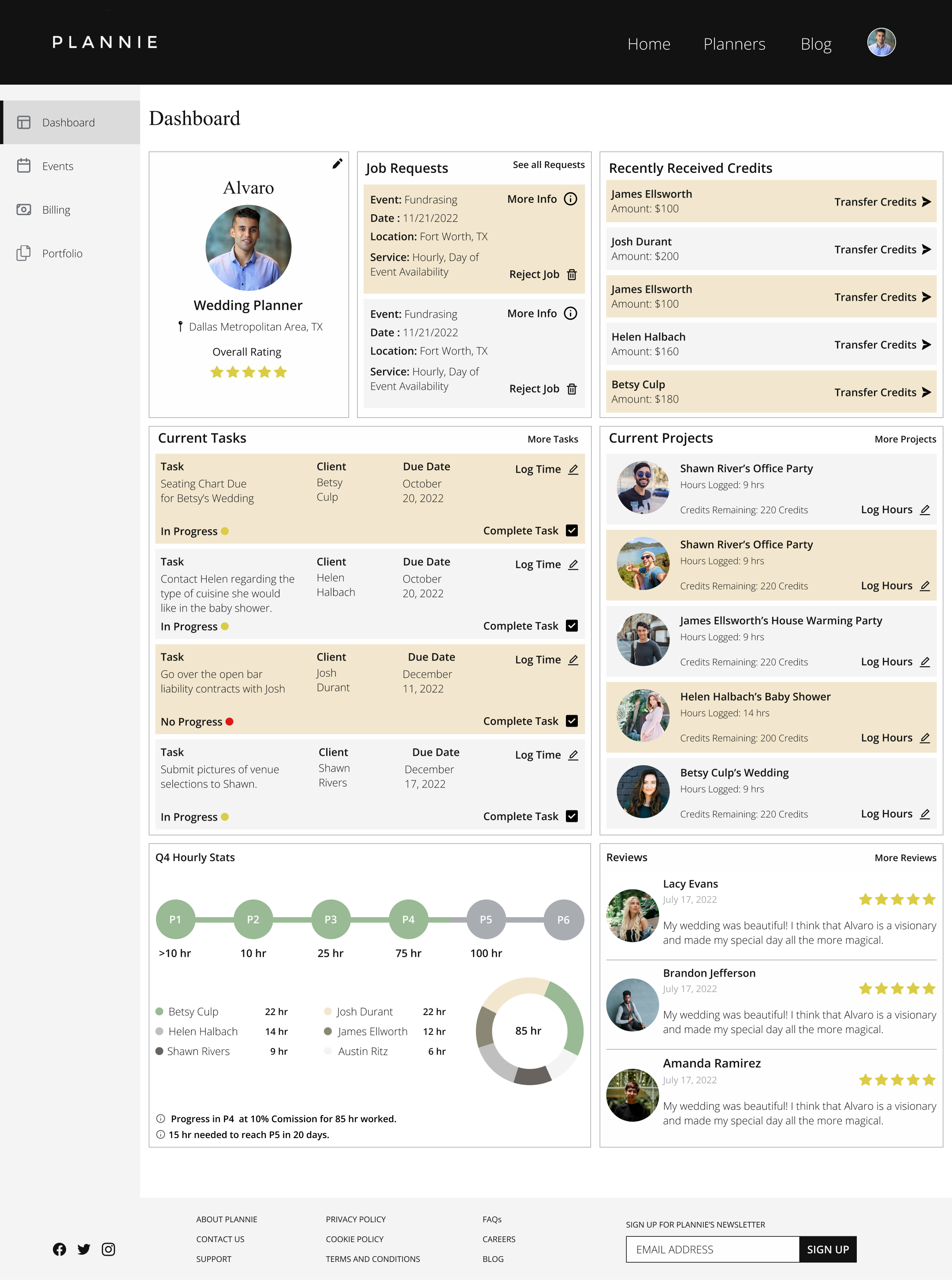 Events Screen
For the second Jira ticket, the primary requirement was to introduce a messaging chat box, enabling Plannie's customers to communicate seamlessly with their event planners. A screenshot was provided to serve as a reference for the desired appearance of the chat feature, and I created a component inspired by their example to design an intuitive chat box to enhance the UX of the product.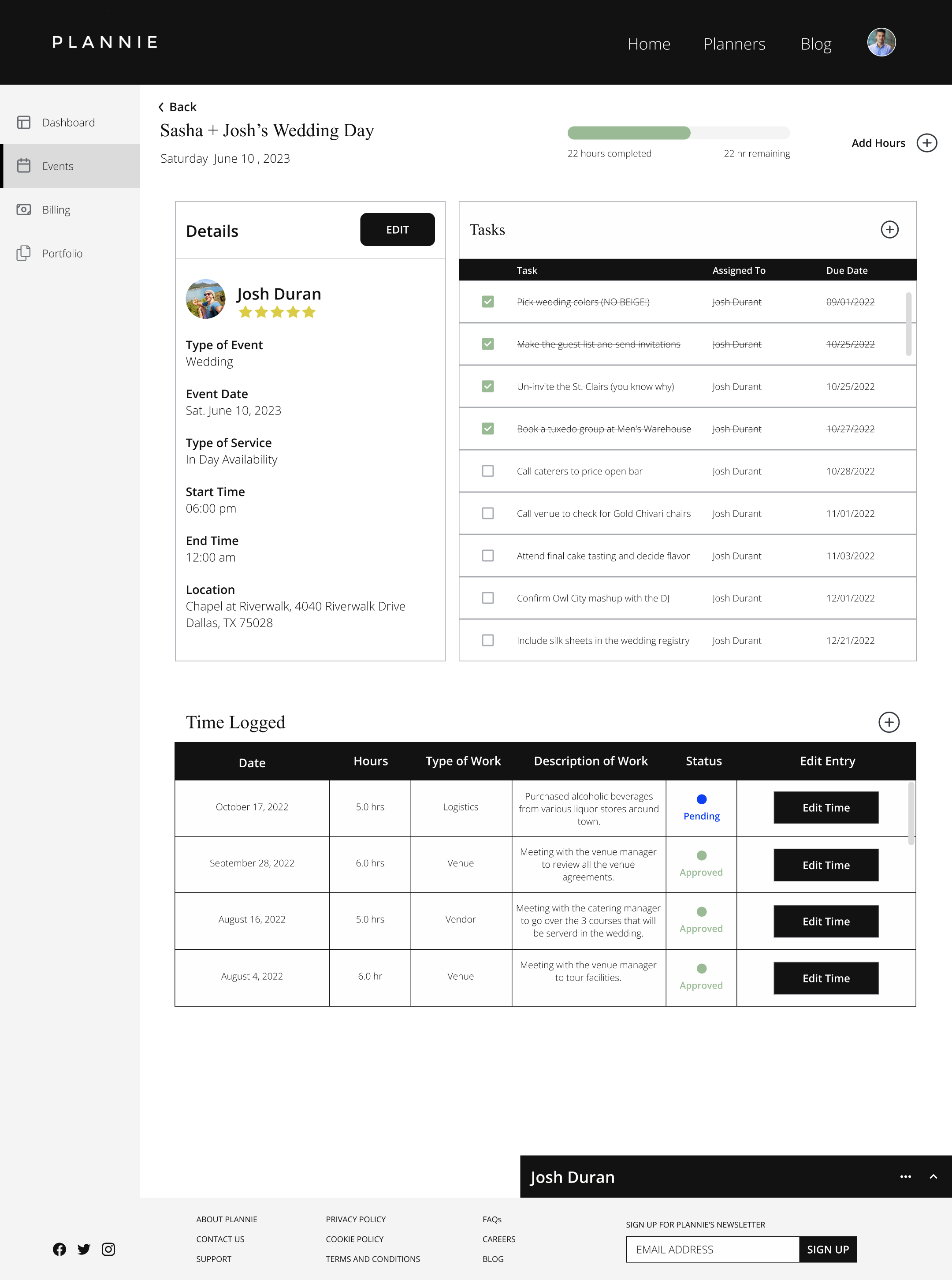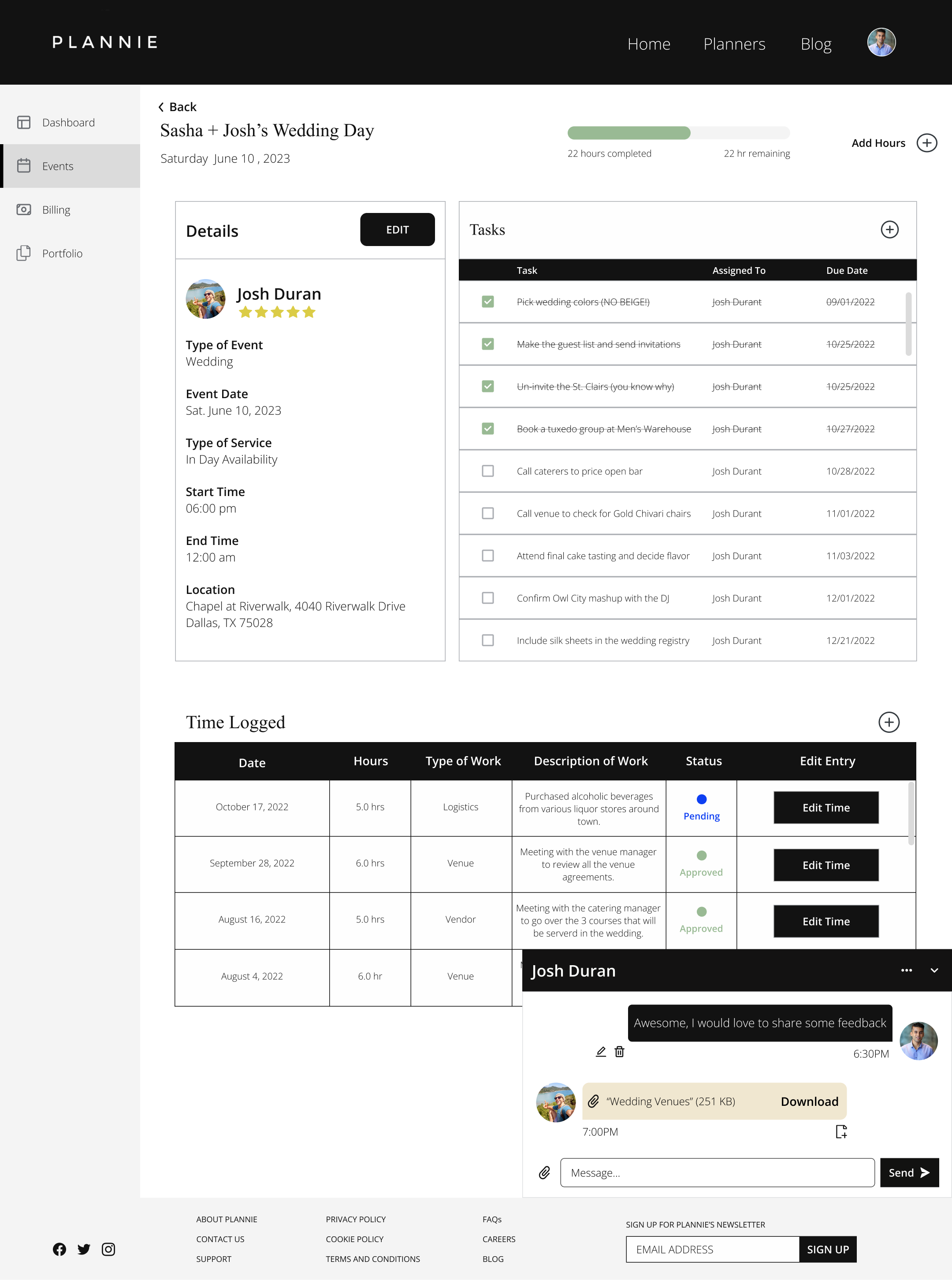 After completing the redesign, my next step was to craft a prototype. This served to vividly demonstrate the changes and enhancements I had implemented. The prototype not only showcased the functionality of the new features but also provided insights into how Plannie's clients might interact with and benefit from the revamped interface.
This project, while short and sweet, presented a rewarding challenge. There were moments when I had to restrain my inclination to recommend more extensive interface changes. From my perspective, there's much more that can be done to elevate their product. However, respecting the client's wishes was paramount.
It was gratifying to see that even subtle modifications can significantly enhance a product's interface and functionality. It underscores the notion that every improvement, no matter how small, has value. While there's a part of me that would love to execute a complete redesign, there's power in gradual change. Rapid transformation can lead to potential usability challenges, requiring users to adapt and re-familiarize themselves, which can be a process in itself.